Can you believe I've been calling my blog by the wrong name this entire time?
You know, just yesterday, I realized there was a big mistake here on Hail & Well Read: it should be Snail & Well Read! An embarrassing mistake, I know. Here I have all these nice swords and crystal balls and towers, but no snails. None! What an awful case of miscommunication.
Just absolutely terrible.
Embarrassing.
Impossible to live down.
But maybe I can make it up to you? See, better late than never, as any snail would tell you, and it's time you get a proper introduction to the blog as it was meant to be. And what might that look like? Well…see for yourself. 🐌
Expect that new review from Snail & Well Read…next year!
See, a quality review needs time to percolate. It has to simmer. How else is it supposed to cover all the important parts? You can't rush excellence, after all. And since all Snail & Well Read reviews will be written by snails, for that authentic snail touch, there's also an element of clean-up involved. You try removing snail trails from your laptop keys.
Plus, these reviews will be trimmed to be salt-free! Can't go killing off all of our snail associates here with salt. That would be a terrible choice. It's not Snail & Well Read without the snails, after all.
Move over, Book Snake, Book Snail is here!
Last year, Book Snake got ahead of the game and made its way onto book covers everywhere. Slow and steady wins the race, though, and Book Snail is here to improve everything we know about book covers.
And you know what? Come to think of it, Book Snake wasn't even first to begin with. Snails have a long, long history of being in books. They're obviously much better at it. Look at all the evidence we have. They scared knights.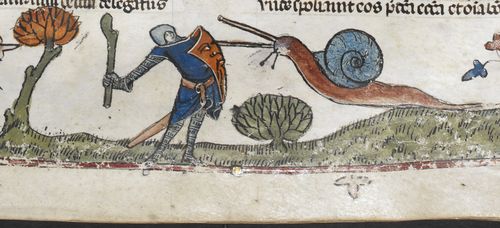 The power! The majesty! The heavily-armored grace! Could you ever hope to defeat a snail? I thought not. Don't even try it. We're not cleaning up after you when you lose the fight.
All those book recs? Well, you could say that Snail & Well Read is going to SNAIL IT.
Tell me, what's your favorite snail? Maybe you're a fan of the sea snail conus magus, which is both pretty and poisonous. Or maybe you love a good old fashioned giant African snail, which is most famous for being exceptionally large and sometimes even kept as a pet, which is admittedly a weird sort of favorite. Or maybe it's the golden apple snail that's the apple of your eye, camped out in your fish tank, laying unusually bright pink egg clusters.
For you conus magus fans, we suggest Forest of a Thousand Lanterns by Julie C. Dao. It's beautiful and poisonous in the same breath. And for those in the giant African snail camp, have you picked up The Diviners by Libba Bray? Big and bizarre is the name of the game! And golden apple snail stans, give Crown of Coral and Pearl by Mara Rutherford a shot. It's got plenty of familiar content, but with a fresh new marine backdrop.
All we have to know is your favorite snail, and our recs for you will be perfect. It sounds like one shell of a promise to make, but we stand by it!
And if your favorite snail is Gary the Snail, can we point you in the direction of Sorcery of Thorns? You'll find a familiar sense of sarcasm and judgment in the body of a creature that says "meow" if you look there.
So walk, don't run!
Snail & Well Read is open for business, ready for you to explore! Just watch your step and take your time. We can't have you smashing the shells of any of our exceptional sneam (snail team) members. Snail & Well Read is all about a good time, not tragedy!
Thanks for playing, folks! If it's not clear by now, Snail & Well Read is an April Fool's joke. I just can't resist a good, harmless pun. Anyway, tune in next year for another delightfully questionable pun choice (or perhaps just more snails)!
🐌🐌🐌